As an adolescent in Western Canada, I grew up playing hockey and idolizing Wayne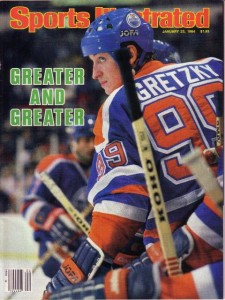 Gretzky. In my office, one of my most prized possessions is a miniature hockey stick signed by "The Great One" himself. How I acquired the stick is a funny story. My father, with my mother alongside in this instance, was travelling on business in Edmonton when the Oilers were in the middle of their dynasty. My mother, to this day, has absolutely no knowledge or interest in sports of any kind, which includes hockey. At the time of my parents' outing to Edmonton, the Oilers would often practice in a rink inside the West Edmonton Mall, and usually signed autographs after practice. My dad had a small hockey stick he gave my mom and convinced her to stand in line to get Gretzky to autograph it. When my Mom got up to the front of line, she introduced herself and proceeded to nonchalantly tell Wayne that her son (that's me!) also played hockey. To top it off, she decided to ask him if he was an Oiler hockey player since she needed "this one guy's" autograph that her son was obsessed with (i.e. Gretzky's autograph). She basically met and had a conversation with the greatest hockey player ever to lace up, during which she had no idea who he was and wanted to know if he even played hockey. I heard he found my mom quite amusing. True story!
Anyway, the point of this week's update is not to convince you that Canadians Hockey Players are awesome or that you should start watching hockey immediately, but it is the following: although Wayne Gretzky is known to fans as "The Great One," early in his career scouts didn't believe he would ever make it to the NHL because of his size. Gretzky was only 5'11 and 165 pounds, whereas most entering the NHL were at least 6'0 tall and 200 pounds. When Gretzky was rejected by the NHL, he signed with the WHA, and in over a year was finally signed by an NHL team, the Edmonton Oilers. The scouts were still not convinced; they predicted Gretzky would crumble in face of bigger and stronger players. What the scouts didn't know was Gretzky he had been competing with stronger, taller, and heavier players from the first time he picked up a hockey stick as a child. After years of coaching and with his Dad's mentoring, he developed a simple strategy and has been quoted numerous times saying, "You need to skate where the puck is going, not where it's been; and shoot the puck! As you miss 100% the shots you don't take!" With this basic strategy Gretzky set 40 regular season records, 15 playoff records, 6 All-Star records, won 4 Stanley Cups, 9 MVP awards, and 10 scoring titles.
So what fundamentals of Gretzky's strategies can we apply to our approach with selling a new medical device product? If Wayne Gretzky were selling a new product, he wouldn't be afraid to take chances, because without that commitment nothing ever happens. It's easy to find a million excuses to not take a chance, not to ask the surgeon to call the OR Director, not to ask for the order, not to ask the surgeon to change his/her preference card, or not to ask the surgeon to call a colleague and suggest that they use his/her new product. So, if you don't take the shot by giving into excuses, then there is absolutely no way of succeeding. Yet, if you do decide to take the shot, there is always a chance you might make it, even if the odds aren't in your favor. If you take a chance at every opportunity that comes your way, you will get better, overcome fear, eventually hit the net and score!
More than taking chances, the other aspect of this equation is put yourself in a position to be successful with a new product by skating to where the "puck" is going. Make sure you are continuously planning ahead, planting seeds into the accounts you plan to work, and then reaping the rewards when you get there. I have seen sales people in our industry that simply start the day by driving around and looking for a blue "H," all the while wishing and hoping they close a sale that day. Cold calling without strategy or purpose doesn't work. Why not call ahead to schedule an educational program, and get agreement to in-service the surgeons on your equipment? As a result, you now have a reason to be in the OR and are in the position to have a clinical conversation with a surgeon. You then need a reason to get back in the OR ("shoot the puck"), and close for both results ("hit the net") and a reason to get back in the OR again (another chance to "shoot"). If it doesn't work—try it again! Wayne never scored on every shot, but he did score a large number of goals because he shot a lot of pucks!
Take a good look in the mirror today and assert yourself that you are a winner, you are going to put yourself in a position to be successful, and you are going to take action. You will see a change take place in your life, business, and your sales results. The absolute worst thing you can do is to take no action at all and not shoot the puck; the best thing you can do is to be present, think tactically, and take every chance.
Share this post