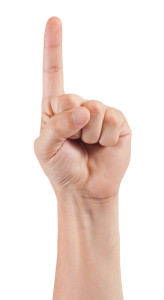 "Unless a man starts afresh about things, he will certainly do nothing effective."
– G.K. Chesterton
Last week, we talked about the importance of setting goals for 2014. Now I'd like to discuss the next step: a unique way of documenting our goals. I do believe in writing out a plan to achieve our goals—but I also need a way to constantly be reminded of my goals, to have them always in front of me.
To be clear: there is never a "silver bullet" for setting and achieving goals! But I'd like to share the technique that works for me.
Before we define our goals and write our action steps, we first need to define who we want to become through pursuing our goals and achieving them. It is all too easy to set "to do" goals, measuring our success by what we accomplish instead of by who we actually are—the higher bar is to set "to be" goals, defining who we want to be.
Have you seen the movie City Slickers? Take a look at this great conversation between characters Curly and Mitch that demonstrates a simple (yet effective!) strategy for finding success and happiness:
One thing. What's the one thing that drives you, motivates you, and gets you up every morning? 
Two weeks from now, more than 206 million people (87% of us) will have made New Year's resolutions, and by February 1, more than 50% will have already given up on their goals. More than 75% of people will have forgotten their goals by the time summer arrives.
These statistics came from a book called One Word that Will Change Your Life (written by Jon Gordon, Dan Britton, and Jimmy Page). Reading this book helped me achieve my goals beyond my expectations. It's a quick read (in fact, it only took me 43 minutes to read it), but it helped me discover my "one thing" both last year and now for 2014.
The most important thing is not to change our goals but rather to change who we are.
To this end, the authors of One Word advocate selecting a single word that will be your driving force for an entire year. You can choose words such as Serving, Purpose, Grace, Surrender, Power, or Discipline. By living and breathing one word for 365 days, we gain a whole new perspective on how we approach our year, leading to renewed purpose and meaning.
Words are powerful. If we find one word to live by, it can inspire, encourage, and turn the impossible into the possible.
I am not in complete agreement with the authors' idea that we shouldn't have written plans or goals. However, when going through their process to come up with my own one word, an ironic thing happened: I discovered that my one word is actually woven throughout all of my personal and professional goals. My written plans now have a focal point and possess stronger meaning and purpose.
As I've said before, passion will get you motivated, but determination will ensure you fight the good fight. Having one word is a powerful way to create a narrow focus with a broad impact. My one word is a constant reminder of why I get up every day and work so hard to reach all my goals, both personal and professional.
Everyone wants happiness and success. It's those who own their goals, take responsibility for them, and under no circumstances give up on them who get ahead in life and reach levels of success—turning their dreams into reality!
Here's my one word for 2014:

What's your one word?
If discovering your one word sounds like the journey for you, take a look at One Word that Will Change Your Life. Happy reading—and good luck!
Share this post